Assuming that Samsung has decided to launch early next year its future model Galaxy S5, it is possible that prototypes make their appearance in the benchmarks. Or a reference SM-G900S just appeared on GFX Bench and reveals features that raise questions.
The terminal belongs indeed to high end processor with a MSM8974 (Snapdragon 800) 2.4 GHz with Adreno 330 graphics processor and runs on Android 4.4 KitKat . It has more of a display resolution 2560 x 1440 pixels .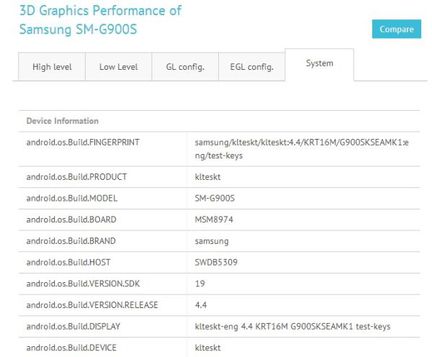 It will therefore be a powerful smartphone with a surpassing display screens 5 "1080p become common in high-end, which could correspond to the Galaxy S5. Having a Snapdragon 800 (but at a higher rate which can report the most powerful versions) can be explained by the fact that the next version,Snapdragon 805 , will not be available early in the year.
In this respect, the HTC M8 successor of HTC and One to be launched early this year, would also use the Snapdragon platform 800 in its most advanced version.
This Samsung SM-G900S therefore has arguments to possibly represent the Galaxy S5. TheDroidGuy the website notes, however, that the name was not much to do with those of the Galaxy S3 and S4 Galaxy ( GT-i9500 / GT-i9505 for the latter, for example) and if anything comes close, quite the Galaxy Round with curved screen and having the name SM-G910 . We can still try to connect to a mysterious series Galaxy F , which play on a premium side. The mystery remains.