A map war has been followed by the retouching. Instagram, the application of photographic filters for excellence, born for the iPhone, and does not work on these phones, unless you belong to Facebook. Since the social network bought per billion, is take advantage of an investment that always seemed exaggerated. A week ago, Instagram has gone to Twitter subscribers, and also a few weeks before Tumblr blogs.
The taste for retouching is not new, single unit has changed. Flickr , the image service owned by Yahoo!, had the possibility of cuts, add frames and stickers as well as playing with the tones and contrast Picnik .Google bought Picnik and integrated it into Picasa, competition fromFlickr . Until recently, the battle of retouching was played on the computer. Now comes to phones and tablets.
In the view of the contenders, the photo retouching can be a hook for engaging the surfer longer even reason enough to change their social network.
Twitter Instagram has run out, but not stopped. On Monday, the 10th, released its own application of filters. Some images modified to it has escaped the cofounder Jack Dorsey . In principle, the new Twitter filter system is quite poor, with just nine resources, compared with those in the market. The application does not own but is provided Aviary, a New Yorkdigital retouching veteran, also serves as Flickr. More immediate reaction seems to Instagram removing its platform a predetermined plan.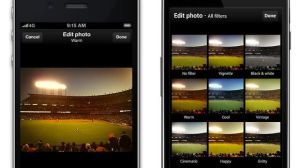 The trend toward exclusivity Instagram, leading retouching, matches the strategic move of Google, to give Snapseed when payment was before.The move is that every time you apply will also be connected to the social network Google+, avid users, especially active.
War is a consequence of the struggle for audiences in social networks, once the technology has allowed. First he had to have phones capable of taking decent pictures. Now any midrange phone has a camera with five megapixel sensor. Although Sony's models with 12 megapixels, the usual high-end, such as the iPhone 5, we have eight megapixels.
"Besides the camera, the connection makes the difference," says Mauro A. Fuentes , director of social networks Ogilvy. "Before  photos on Flickr and it took to load, to see it. Now it immediately. "Fuentes argues that the success is not so much as the effects on feelings:" In fact, the options presented Instagram are not the best, but to share the day with ease by adding the personal touch. yes there are spot on. Everyone wants to feel like an artist for a moment. "
Each of these services want to be between and separate retouching."The essence of Instagram was to share, have a presence on as many networks as possible." In this case, your landlord Facebook, Instagram has taken to Tumblr and Twitter. "This step will serve only to go on Facebook," the expert forecast. "Community of instagramers, with a core of very active 80 million, not to take it as a joke, "said Fuentes." Facebook is looking less for more user and advertiser. "