With the Mobile World Congress and the presentation of the Playstation 4 in between I have not had occasion to speak of Pixel Chromebook , new Chromebook Google launched on Thursday 21 February.
It is an unusual product in more ways than one and they all make a proposal that can be described as little intriguing.
The first thing that stands out is the design. Chromebook pixel has a clear protagonist: the screen. The grace of this computer is that it has a high screen pixel density, similar to the "Retina" that Apple uses in some Macbook (it is a little more dense). It is also an atypical ratio screen. Not 16:9, like most laptops, but 3:2. Although also touch sensitive functions are few out of the box.The most desirable, the ability to extend a website as we do with the tablets, is not activated by default, for example.
The second is that unlike other Chromebook, this is created exclusively by Google. So far the company followed the same strategy of Microsoft, accompanying software and services to equipment manufactured by companies such as Samsung or Acer. This is the first Chromebook that Google simply mark. It is manufactured by a third company in Taiwan but under the direction of Mountain View company itself.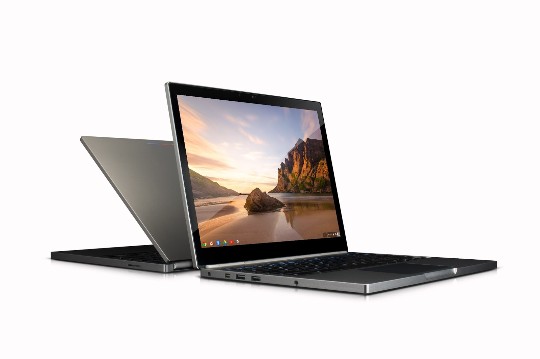 Third, the price . So far the Chromebook proposition seemed simple. Here's a very simple computer, designed to run applications on the network and surf the web. It is very easy to maintain and safe and fairly cheap way because it has certain components, such as large memory capacity, which would raise the price.
Pixel completely changes this speech. It is a treat that costs more than $ 1,299 and, like other Chromebook, it has a large storage space, but Google includes 1TB of storage in Google Drive for three years, or the ability to install native applications as MacOS and do offer Windows (traditional computer) or Android and iOS (mobile phones / tablets).
I could not test the machine yet but the sum of all these elements create a unique proposition and I think intended for a very small market, the public works daily with Google Apps and do not need a complete operating system.Probably many are in the same campus of Google, which leads me to believe that Pixel is basically a machine created by Googlers and Googlers . Now if this year Google decides to change Chrome OS seriously and start slowly integrating some features of traditional operating systems market will find a very interesting position. Apple, Microsoft and Google creating its own devices, operating systems and services. Three major platforms that are a mirror of what is already happening in the mobile world .