Its maker, Research in Motion (RIM), is at a turning point where you decided to break with his past in order to face competition from rivals such as Apple with its iPhone and Samsung and other manufacturers with their Android handsets, they have eaten their market share until it practically insignificant in numbers. Such has been the break that has swept away even the name. RIM and RIM will not, but BlackBerry , its best known brand among consumers.
The company introduced this week its expected new system, BlackBerry 10, built from scratch and finally adapted to the world of touch screens that dominate for years with Apple and Google Android. Two devices, the Z10 , touchscreen, and the Q10 , which maintains the traditional physical keyboard has been house brand on their devices.
Experts believe that the future of the company as is known now depends entirely on BlackBerry 10. "It's 'D-Day' for RIM. If not successful with the new platform, there are no alternatives or by side 'hardware' and the 'software'.'s Future would depend on a new corporate strategy, from strategic alliances or sell their licenses. No plan B for BlackBerry because time and investment in the new system is too big, "said Francisco Jeronimo email, European head of market research of mobile devices at IDC.
The market share of the company has plunged from 14% in the first quarter of 2011 to 4% by the end of 2012, according to IDC data, mainly due to the escape of non-business consumers to terminals of competition more modern in every way and with a much larger ecosystem of applications. In Spain, where the company grew much thanks to young in 2010, the data are even worse, and its share fell from 9.6% it had in early 2012 to a low 1.6% at year end, according to Kantar Worldpanel.
Does the resurrection?
The Z10 will be the star of that terminal attempted resurrection with a higher resolution screen than the iPhone with a size 5 and a tad larger -4.2 inches versus 4 in its rival. So far, the reviews have been positive, especially what the new system, BlackBerry 10, is concerned.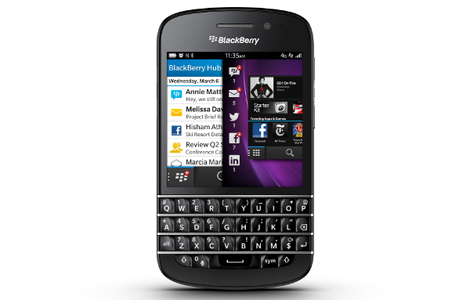 BlackBerry Q10 maintains the physical keyboard and includes a touch screen.
So far, RIM had tried to introduce some high-end terminals with touch capabilities but had always failed because the old system was designed for your mobile with keypad and manage corporate and courier but poorly prepared for application development.
The new interface has new features compared to the competition, such as the virtual keyboard, predictive and learning to improve over time. Also true multitasking, especially the BlackBerry Hub, which unifies text messages, social networks, emails and which can be accessed without leaving the application being used and the possibility of having two different profiles in one device, one for personal and other professional.
"The enterprise segment will remain the company's main niche. Companies using BlackBerry servers with thousands of users are not going to leave all the infrastructure of a sudden", create Francisco Jeronimo, IDC, which emphasizes that it will not to be as easy to attract home users.
BlackBerry is vital to keep existing customers but must also ensure that those with Android, Apple or Windows Phone change the perception that the company's phones are outdated and are not very 'cool', a widely held despite remains the preferred phone Barack Obama .
Keys herself exemplified in the scene of the presentation of 10 BlackBerry users 'unfaithful' of the company in recent years. "I was in a long term relationship with BlackBerry and then discovered in other mobile gym new, more attractive and sexy. So I broke you," he said in the presence of the CEO of the company, Thorsten Heins. "But I always missed the way in which organizabas my life and be there for my work. Started having two phones. But then fixed it and now we're dating exclusively again," added the singer.
However, this conversion of Keys also demonstrates what can be one of the weaknesses of the new BlackBerry: the lack of key applications. The singer is very active user of Instagram , an app, available for iPhone and Android, it will not be launching BlackBerry 10. Aware that the lack of applications has been a major cause of their decline, the Canadian company has created an operating system that allows applications to migrate to other systems such as Android, with ease.
It has also encouraged developers to economically launch system applications. The result is more than acceptable. When the Z10-market in Spain in February or March, there will be 70,000 applications available, including some relevant as 'Skype', 'Whatsapp', 'Dropbox', 'Kindle', 'Foursquare' or 'Evernote' as well queens of social networks such as 'Facebook', 'Twitter' and 'LinkedIn'. Also classic games iOS and Android, as' Angry Birds Star Wars', 'Plants Vs. Zombies' or 'Where's My Water'.
However, there will be some notable absences, like Google Maps, Spotify or Instagram said . Ultimately, 70,000 is not a bad number but is just under 10% of the total of 800,000 applications already exist for the Apple App Store or a substantially similar number for Google Play Store.
The lack of applications and the lack of a native service in the cloud, where save pictures for example, are the weakest points of the new system, according to Walt Mossberg , specialist gadgets 'Wall Street Journal'.
What will the public?
One of the problems that will face the new handsets from BlackBerry is the price. They are high-end devices. The Z10 will be priced contract with free-without-operators to exceed $ 500 and that, at least in Spain, it lets in price above what is being the big sellers on the market: the low-mid range Android .
In Spain, BlackBerry was popular in years like 2010 among young audiences, including cheap terminals spread the company's claim its messaging service. However, the success of WhatsApp , available for all platforms, has made ​​many of those users have mostly migrated to Android.
"IDC believes that BlackBerry will continue to be a major player in the enterprise segment but do not see it in the home. Will be smaller in the global market with a share of around 5%," said analyst Francisco Jeronimo. "This could change quickly if the company extends its portfolio to significantly lower prices," he adds.
The future of the company seems complicated. You now have a system that can compete on an equal footing with iOS and Android, but has to make to keep their traditional users, who can see too many complexities in BlackBerry 10 , while attracting other platforms to try to register as a third platform over Windows Phone. Also, they may find it very difficult to place the old terminal, as users will not want to be tied to a system that the manufacturer considered obsolete.
For now, the company's shares have fallen more than 10% since the announcement but this is due mainly to the fact that in the last four months had tripled. Still, listed by 90% below their highs of 2009.
The CEO of the company, Thorsten Heins , defined changes of BB10 as a "reinvention" of the company after being raised two years ago to switch to another system or create your own again. "It's not the finish line, is the starting line " , he said. Now need to know the verdict of the market.